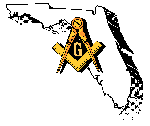 On November 28, 2012, the Grand Master of the State of Florida, Jorge L. Aladro, issued an edict stating that Paganism, Wicca, Odinism, and Gnosticism were not compatible with Freemasonry.  This edict further stated that any Freemason "that professes to be a member of one of the groups mentioned above shall tender his resignation or suffer himself to a Trial Commission whose final outcome will be expulsion since there is no provision to allow anything contrary to the Ancient Landmarks." Click Here to read his full ruling.
Everglades Moon Local Council, Florida Chapter of Covenant of the Goddess, a national organization of Witches and Wiccans, is saddened and disappointed to learn that The Grand Lodge of Free and Accepted Masons of Florida has stated that all Pagans, and specifically Wiccans, must resign their membership. We respect the right of groups such as the Freemasons to make choices regarding their membership. We pray that Wiccan Masons can find a way to continue their contributions towards making good men better.
EMLC is not the only group in Florida who is saddened by Mr. Aladro's statement.  One Pagan, who participated in the Degrees at a lodge in Florida tells the Pagan Newswire Collective of his experience as a Pagan and a Mason.
This ruling has also prompted other Brother Masons to spend the past few evenings in prayer and meditation.  While not many current Brothers in Florida have spoken out against their Grand Master (most likely due to fear of being expelled from the organization by him), other well-respected Masons around the US have publicly spoken out against the Florida Grand Master's decision.  You can read an Open Letter to the Florida Grand Master from "The Relevant Mason," as well as this article on "The Oblong Square" which discusses the religious intolerance, and the not-quite-Brotherly statement by Mr. Aladro.
While there is no Grand Lodge that governs all of the US, and each state operates under the Constitution of the Grand Lodge of the specific state, it is deeply heartening to see the outpouring of current Masons who simply do not agree with the decision reached by this man.   The Grand Master of Florida might speak for Freemasonry, but it is important to remember that his position is not held by all Florida Freemasons.
(UPDATE): The Wild Hunt continues their coverage of this story, providing additional information and input from others.  We will continue to post updates and links to this story as they unfold.
(UPDATE): In Florida, Grand Masters such as Mr. Aladro have a one-year term. His term ends May 29, 2013.